Plumbers, Heating, & Air Conditioning in Covington, LA
With our top-notch service, we find that customers from all over tend to enlist our team. Even in Covington, which is about an hour from our offices, we still have loyal clients. We're happy to serve Covington, because not only does this community have great residents, it has fantastic activities.
I highly recommend Bienvenu for ALL your plumbing needs





"We were in a pinch when our kitchen sink stopped up on a Saturday evening of a HOLIDAY WEEKEND with several out of town guests staying with us. We needed to get the kitchen sink unclogged as soon as possible so I called Bienvenu Brothers Plumbing and they went above and beyond what I expected. They arrived on time, were professional and courteous, answered all of our questions, and most importantly got our sink working again! I highly recommend Bienvenu for ALL your plumbing needs!"
Covington Cooling and Heating Services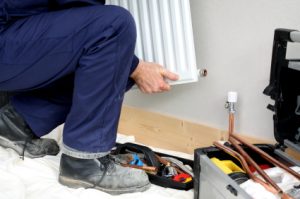 We all know that Covington is no exception to the statewide weather fluctuations. If it's hot and humid in New Orleans, it is almost guaranteed to be hot and humid in Covington. When we at Bienvenu Brothers offer our cooling and heating services, we know we have to tackle it with the same tenacity that we would anywhere else in Louisiana. We understand that the entire state has many of the same concerns, so we provide dedication no matter the area.
If you're dealing with hot summer temps or chilly windy days in Covington, ensure you have the right heating and cooling team for the job. Bienvenu ensures that everything is cold when it should be and comfortably warm when the weather outside starts to cool down. Cooling and heating is just one of the stellar services we offer to Covington residents.
Plumbing Problems in Covington
Covington is not immune to plumbing problems. We have seen homeowners and business owners alike experience cracked and burst pipes, drainage concerns, clogged toilets, and hard water. Whatever you're facing, we've probably seen it. We know what happens in this community, like in communities all over Louisiana, and we use that knowledge to solve your plumbing problems.
Servicing Covington
We always enjoy servicing homes and businesses in the Covington area. It means we can get a taste of one of the awesome summer concerts or visit the Farmer's Market between service calls. It even means we can spend our weekends doing some trail-walking at Tammany Trace.
Driving Directions From Covington, LA to Our Location
Driving Time By Car : 45 min via Lake Pontchartrain Causeway
>> Get on US-190 E in 1 from US-190 BUS E/E Boston St
Head east on W 21st Ave toward N Jefferson Ave, Continue onto US-190 BUS E/E Boston St, Turn right onto the ramp to Mandeville New Orleans
>> Take Lake Pontchartrain Causeway to W Esplanade Ave in Metairie
Merge onto US-190 E, Keep left to continue on Tammany Pkwy, Continue onto N Causeway Blvd (Partial toll road), Continue onto Lake Pontchartrain Causeway (Toll road), Continue onto N Causeway Blvd (Partial toll road)
>> Continue on W Esplanade Ave. Take Bonnabel Blvdto Elmeer Ave
Use the left 2 lanes to turn left onto W Esplanade Ave, Turn right onto Bonnabel Blvd, Use the 2nd from the left lane to turn left ontoS Interstate 10 Service Rd E, Keep right to stay on S Interstate 10 Service Rd E, Turn right onto Elmeer Ave.
Get Google Maps Direction Of Our Location HERE
Let us service your Covington home today. Call us at
(504) 835-7783
for fast, friendly, effective service.