Many people waste no time fixing a toilet leak or replacing a dripping faucet but completely neglect their washing machine hoses. Your washing machine hose may never develop a slow, steady leak like other plumbing fixtures often do, but when a hose bursts, you're in for a serious, sudden mess. Water damage caused by leaking home appliances is one of the top five causes of home insurance claims, according to the Institute for Business and Home Safety. More than half the water damage claims are related to washing machines were from broken water supply hoses. To prevent water damage in New Orleans, you'll want to check your washing machine hoses and replace them as needed.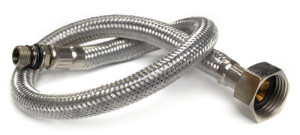 How can I prevent a burst washing machine hose in New Orleans?
Don't run loads of laundry unless someone will be home.
Keep your washer at least four inches away from the wall to prevent the hoses from bending and kinking.
Examine your washing machine hoses every month. Look for blisters, cracks, and worn tubing. Pay special attention during your inspection to the area of the tube that bends near the connection because this spot is most vulnerable to wear.
Check for loose hose connections and tighten them as needed.
All hoses should be replaced every three to five years even if you don't see any signs of wear. Sometimes deterioration starts on the inside where it can't be seen.
Choose stainless steel braided hoses over rubber hoses because these are more likely to hold up.
When you leave on vacation shut the hot and cold water valves to your washer off.
Washing machine hoses are fairly inexpensive and easy to replace, so don't put off swapping your hoses out for new ones if they're overdue for replacement. For help with other plumbing problems you might encounter this summer, give Bienvenu Brothers a call for plumbing service in New Orleans!