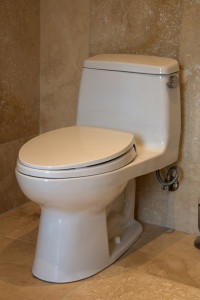 Toilets are some of the most important pieces of any residential plumbing system. When they don't function properly they can be messy and wasteful, so it's important to give your New Orleans plumber a call at the first sign of toilet trouble. Today, we're answering two of the most common questions about toilet issues.
#1: Why won't my toilet stop running?
Running toilets are usually caused by an aged, hardened rubber toilet flapper valve seals. Old toilet rubber parts can begin to malfunction and allow water to escape from the toilet tank into toilet bowl unnecessarily. If you constantly hear your toilet running when it hasn't been flushed recently, or if you hear the toilet filling in the middle of the night, you need a toilet repair because water is being wasted and the issue will only get worse. Many times our plumbers can replace the toilet rubber parts and restore proper function without you needing a costly toilet replacement.
#2: Why is my toilet leaking?
No one wants to have to clean up after a leaky toilet. In most cases, a leaky toilet is caused by a defective wax ring. Replacing the wax ring should do the trick, but we don't recommend going about this project alone because it could get messy if you're inexperienced with toilet repair. If the leak isn't caused by a defective wax ring, you may have a rusty, corroded pipe or a crack in your toilet bowl or tank. Our plumbers will take care of the toilet repair or help you choose a toilet replacement if necessary. By fixing this water leak right away, you'll help to conserve water in New Orleans and save money on your water bills.
At Bienvenu Brothers, we've been providing great plumbing service since 1937, and we're here to help you with any plumbing problem you run into. For toilet repairs and toilet installations in New Orleans by trusted, courteous plumbing professionals, give Bienvenu Brothers a call today! Check out our coupons for plumbing service too!