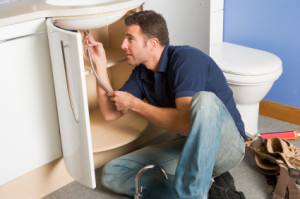 In terms of selecting the right plumber for your New Orleans or Metairie plumbing job, it is key to do a little research beforehand. What we mean is that we highly suggest you find out how qualified your plumbing company is before you enlist one of their technicians to work at your home. Ensuring that the professional who does your residential or commercial work has the right licensure makes the difference between an amateur plumber and an expert.
Who is a Plumber?
A plumber, in general, is a professional who installs or repairs systems used for wastewater disposal, freshwater distribution, and natural gas distribution in residential, commercial, and industrial buildings. Read on to find out the main types of plumbing licenses that plumbers can hold.
What Are The Types of Plumbers?
There are three types of plumbers in the state of Louisiana:
Master Plumber
Journeyman Plumber
Apprentice Plumber
What Does a Master Plumber do?
A master plumber is the most experienced and qualified of all the plumbing categories. In order to become a master plumber, one must have at least five years of experience as a licensed journeyman plumber and take a master plumber exam. This person will typically be the one in charge of a plumbing project, overseeing all work done and managing his or her team of journeymen and apprentices.
What Does a Journeyman Plumber do?
A journeyman plumber is slightly less experienced than a master plumber. He or she will often work under the supervision of a master plumber and help with plumbing repairs, maintenance, and installations. To become a journeyman plumber, one must complete the apprentice program, should have passed the journeyman test and usually possess at least 4 years of experience.
What Does an Apprentice Plumber do?
An apprentice plumber has the least amount of experience among all three categories. He or she is still in training and learning from more experienced professionals. An apprenticeship typically lasts four to five years, but this varies from state to state. You need to be at least 16 years old to become an apprentice plumber in Louisiana. Even if you don't have a high school diploma, as long as you are physically capable to carry out the required tasks, can read, write, and do basic math you can become an apprentice plumber.
Mandatory License
It is mandatory for a plumber or plumbing company in Louisiana to obtain an LMP. This stands for Licensed Master Plumber. Whoever you contact should have this information readily available for you. That is because it is crucial to obtain this license if you want to offer plumbing services in Louisiana. This license is offered by the State Plumbing Board of Louisiana, and they take this licensing very seriously. You can even search their site directory to determine if your plumber is licensed.
Supplemental Education
We think it really shows a dedication to the industry if a plumber seeks out associations and organizations. These groups tend to offer development & education courses that keep workers up-to-date with changing trends and the latest technology. As well, when these organizations offer conferences, it is a learning experience for all attendees. This isn't licensure per se, but it shows a commitment to the industry. Be sure to see which associations your plumber of choice belongs to.
Insurance For Plumbers
One of the most important aspects is making sure your plumber carries general liability and workers' compensation insurance. Without it, you can be held responsible for any injuries or accidents that occur while they are on the job. The best way to verify this information is by asking to see a copy of their insurance policy. When you have all the facts, you can make an informed decision and feel confident that you are choosing the right plumber for your project.
In Louisiana, only master plumbers can get the required insurance. All plumbers are also expected to wear protective clothing, such as gloves and safety glasses, when on the job.
In conclusion, when it comes to choosing a plumber for your New Orleans or Metairie plumbing job, make sure you research their license status beforehand. Ensuring that the professional who does your work has the right licensure will help ensure that the job is done correctly and efficiently. Additionally, it's also beneficial to research associations and groups they belong to as this shows a commitment to the industry. With the right plumber, you can rest assured that your job will be done right!
Knowledgeable Plumbers in Your Neighborhood
Not only do we at Bienvenu Brothers pride ourselves on our work, but we have the licenses and association credentials to prove it. A simple search on our website or on the State Plumbing Board of Louisiana's site will show our LMP number. And, we have aligned with the Plumbing, Heating, and Cooling Contractors Association (PHCC) because we feel we can constantly learn about our industry. We stay in the know and up-to-date because we want to be the best in New Orleans. Contact Bienvenu Brothers at (504) 835-7783 for the expertise you deserve.