Plumbers, Heating, & Air Conditioning in Mandeville, LA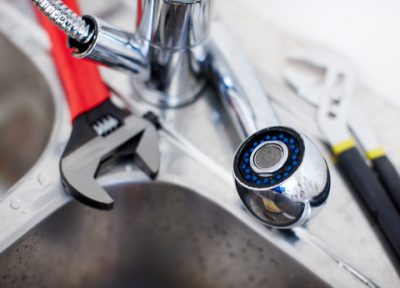 Nestled between Interstate 12 and Lake Pontchartrain is the town of Mandeville, LA. Known for its historic roots in Louisiana and its proximity to the water, Mandeville is full of families who seek various things. Some families want to settle down by the water, and others want to have easy access to Interstate 12. Whatever the motivation, we at Bienvenu Brothers have found there are many different kinds of homes and businesses that make up this area.
I highly recommend Bienvenu for ALL your plumbing needs





"We were in a pinch when our kitchen sink stopped up on a Saturday evening of a HOLIDAY WEEKEND with several out of town guests staying with us. We needed to get the kitchen sink unclogged as soon as possible so I called Bienvenu Brothers Plumbing and they went above and beyond what I expected. They arrived on time, were professional and courteous, answered all of our questions, and most importantly got our sink working again! I highly recommend Bienvenu for ALL your plumbing needs!"
Plumbing Services, Heating and Air Conditioning Service
Because this area is so diverse, that can mean we're dealing with multiple issues when we provide plumbing, heating, and air conditioning services in Mandeville, LA. Sometimes we're dealing with brand new homes with brand new HVAC systems that weren't installed properly by another Mandeville team. Additionally, sometimes we're providing plumbing services to an extremely old home that has lush old trees with roots that have punctured underground pipes.
We have seen so much in this community, and it only makes us better. Our team can tackle any task because we've probably completed a similar service in Mandeville.
Water Heater Service
If you are seeking water heater service in the Mandeville area, Bienvenu Brothers has the team of experts you need. We specialize in water heater maintenance, draining, cleaning, and of course, water heater installation. Whether traditional or tankless, we are happy to advise on the perfect new water heater for your home. As experts in our field, we are confident you will love our thorough water heater service.
Air Conditioning Installation
When it gets hot, it gets hot in Mandeville. Don't be left out of luck when you need relief the most. Bienvenu Brothers provides the best air conditioning installation service and products to our customers to ensure many years of safety and comfort. These days, air conditioning is a necessary utility. Let us help you choose the ideal air conditioning system for your specific needs- leave the professional installation to us!
Sewer And Drain Cleaning
It is an inevitable part of homeownership. Sewer and drains need regular cleaning as over time, they endure a build up of dirt, grime, sludge, and grease. Sewer lines are often choked with debris from trees, roots and shrubs causing the lines to back up. Have your sewer and drain cleaning done by an experienced professional and put your mind at ease. Schedule your annual cleaning today.
Tankless Water Heater Service
Does your hot water not last as long as it used to? With a tankless water heater you never have to worry about running out of hot water again. Tankless water heaters have a longer lifespan than standard water heaters and are more energy efficient, meaning they can be better for the environment and better for your wallet. Upgrade to a tankless water heater for endless hot water for all your household needs. Call the local friendly experts at Bienvenu Brothers for your tankless water heater installation, repair, or maintenance needs in Mandeville.
Furnace Installation
Heating is still important even here in Mandeville, Louisiana. Stay in comfort this winter and make sure your furnace is ready for a cold front. Serving Mandeville for four generations, call Bienvenu Brothers today for your furnace repair or new furnace installation.
Customer Needs in Mandeville, LA
If you are at all concerned with the issue at your home or office in Mandeville, you have nothing to sweat about. The Bienvenu team focuses day in and day out on complex issues that pop up in plumbing, heating, and air conditioning. We understand that every situation is different, and we're ready to tackle whatever comes our way.
Driving Directions From Mandeville, LA to Our Location
Driving Time By Car : 37 min via Lake Pontchartrain Causeway
>> Head northwest on Monroe St toward Lafitte St
>> Follow Lake Pontchartrain Causeway to W Esplanade Ave in Metairie
Turn left onto E Causeway Approach (Partial toll road), Use any lane to turn right onto N Causeway Blvd(Partial toll road), Continue onto Lake Pontchartrain Causeway (Toll road), Continue onto N Causeway Blvd(Partial toll road)
 >> Continue on W Esplanade Ave. Take Bonnabel Blvdto Elmeer Ave
Use the left 2 lanes to turn left onto W Esplanade Ave, Turn right onto Bonnabel Blvd, Use the 2nd from the left lane to turn left ontoS Interstate 10 Service Rd E, Keep right to stay on S Interstate 10 Service Rd E, Turn right onto Elmeer Ave.
Get Google Maps Direction Of Our Location HERE