"Aging in place" is growing older without having to move.
According to the Journal of Housing for the Elderly, it is not having to move from
one's present residence in order to secure necessary support services in response to changing need.
Some 70% of seniors spend the rest of their life in the place where they celebrated their 65th birthday.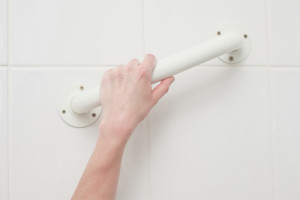 However, Aging in Place is not the only reason for Accessible Bathroom Remodeling.  Personal care becomes difficult for many elderly people because of mobility issues and other ailments that come hand in hand with aging.  As using the bathroom becomes more difficult, it can become dangerous as well.  But, there are bathroom modifications designed for the elderly that can make bathing and using the toilet easier and safer.  At Bienvenu Brothers, we listen to your needs and desires and then help you install the accessible plumbing fixtures that will make your life easier.  Let us help you determine how to make your bathroom more accessible today.
Handicap Accessible Plumbing Options in Metairie & New Orleans
Walk-in Showers & Bathtubs – Rather than take a large step over the side of the bathtub, you could take one easy step right into the tub or shower.
Handheld Showers – Why worry about moving all around in the shower to clean your body, when you could move the shower all around your body? Handheld showers make the task of bathing much easier.
Shower Seats – Some elderly people have trouble standing underneath the shower for long and they worry about slipping and falling. Shower seats take the burden out of bathing so that you can relax and enjoy.
Elevated Toilets – As people age, their knees and hips are often not as strong as they once were. It can be difficult to lower oneself down onto a low toilet, but elevated toilets allow you to bend less.
Grab Bars – Grab bars can be installed by the shower, tub, or toilet to assist and steady people. Just be sure to purchase an institutional grade bar, not a simple towel bar that won't be able to withstand the weight.
At Bienvenu Brothers, we're happy to help you with your accessible bathroom remodel. We'll help you choose and install the plumbing fixtures that will best match your individual needs. For accessible bathroom remodeling in Metairie and New Orleans, call our plumbing experts today!
Published at April 29, 2015