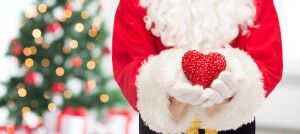 Known for its delicious cuisine, jazz music and Mardi Gras, New Orleans always has events throughout the entire year, and this is no different during the holiday season. At Bienvenu Brothers, we've put together a list of the top 5 place to celebrate and enjoy the Christmas festivities this year.
A New Orleans Style Christmas
Celebrate Christmas New Orleans style with this month long event. From the end of November onwards, Jackson Square fills with carolers, choirs and musical artists who enjoy entertaining the crowds.  Candlelight processions, free concerts and the light shows are only a few of the activities to be enjoyed.
Levee Bonfires
Why not do something a little different this Christmas and head to the Levee to dance around 20-foot bonfires? This tradition has been going on for hundreds of years and is enjoyed by residents and visitors alike. Heat yourself up this winter and partake in some bonfire fun!
Running Santa's
Every year, thousands of Santa's celebrate Christmas by taking part in the 'Running of the Santa's'. This event begins at the makeshift 'South Pole' located at The Rusty Nail. Live music and special holiday drinks and nibbles are also a part of this fun-filled tradition. Entry is $20.
Visit St. Louis Cathedral
Christmas truly is the season to be jolly, so join in the fun at St. Louis Cathedral. There will be gospel choirs, jazz bands and classical artists throughout the month of December. Events run every day, so find out more!
Bring in 2016 in Style!
The annual fleur-de-lis drop, the breathtaking fireworks show over the Mississippi River and live entertainment in Jackson Square are the New Orleans New Year traditions not to be missed! If that's not your style, many traditional bars and restaurants offer entertainment, food and a good time.
Published at December 5, 2015
Category: Events