Floor Furnaces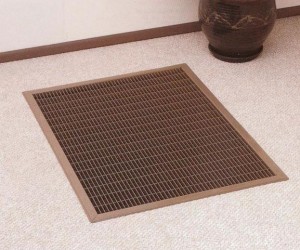 When winter weather hits, you may be looking for more efficient ways to heat your home. Bienvenu Brothers is happy to provide our clients with high-quality floor furnaces that quickly provide the heat you need when you need it. Floor furnaces are a great space-saving alternative to other furnace units. When the temperature drops, you shouldn't be forced to freeze because of lack of space. Our affordable floor furnaces are available for fast installation by our experienced technicians. Give our office a call today and cozy up with a brand new floor furnace!
I highly recommend Bienvenu for ALL your plumbing needs





"We were in a pinch when our kitchen sink stopped up on a Saturday evening of a HOLIDAY WEEKEND with several out of town guests staying with us. We needed to get the kitchen sink unclogged as soon as possible so I called Bienvenu Brothers Plumbing and they went above and beyond what I expected. They arrived on time, were professional and courteous, answered all of our questions, and most importantly got our sink working again! I highly recommend Bienvenu for ALL your plumbing needs!"
Benefits of Floor Furnaces
Floor furnaces are typically found in older homes or homes that don't have space for a traditional furnace unit. They are a great choice for properties that don't have a duct system but still need a source of reliable heat. Some of the great benefits of floor furnaces include…
Cost– Floor furnaces are inexpensive and easy to install.
No electricity- Floor furnaces don't require any electricity to run.
Rising heat– Since heat naturally rises, floor furnaces make a lot of sense.
The average cost of a floor furnace is significantly less than a traditional furnace unit. Hiring an experienced HVAC technician to install your floor furnace is important.
Are floor furnaces safe?
Like most heat sources, there is a certain element of safety to keep in mind when installing or replacing a floor furnace. Floor furnaces typically operate on propane, natural gas, or electricity using convection. It is always advised to choose a floor furnace with a quality gas flue that can effectively carry potentially harmful gases outside the home. This helps protect from the risk of carbon monoxide entering the home. Homeowners using floor furnaces to heat the home should also be aware of the risk of injury to small children, as the furnace grate itself has the potential to get hot. We advise our customers to install floor furnaces with adjustable heat settings to be on the safe side!
Updating Your Floor Furnace
If you have an older floor furnace, you will want to check to ensure it has all the modern safety features that newer models have. These high-tech safety elements not only save you money but also can protect your family from devastating fire or gas leaks. If your floor furnace lacks a removable grill or large-diameter gas flue, it may be time to upgrade your unit.